West Village Etobicoke Tower 2
Live, love, laugh. The Village Club offers the perfect place to enjoy your leisure time. West Village Tower 2 by Tridel at 399 The West Mall in Toronto. This Master planned community includes 4 grand residential tower built around wonderful open green spaces and top notch amenities.
Summary
Project: West Village Etobicoke Tower 2
Price: From $300,000
Completion: 2015
Units: 600
Developer: Lanterra Developments
Address:
28 Morgan Ave, Etobicoke, ON M8Y 2Z8
West Village Etobicoke is a new condo development by Tridel at 399 The West Mall in Toronto. This elegant development features one, two and two plus dens suites available for immediate, summer or fall occupancy. Pricing includes parking valued at $30,000.
From West Village You Can Go Anywhere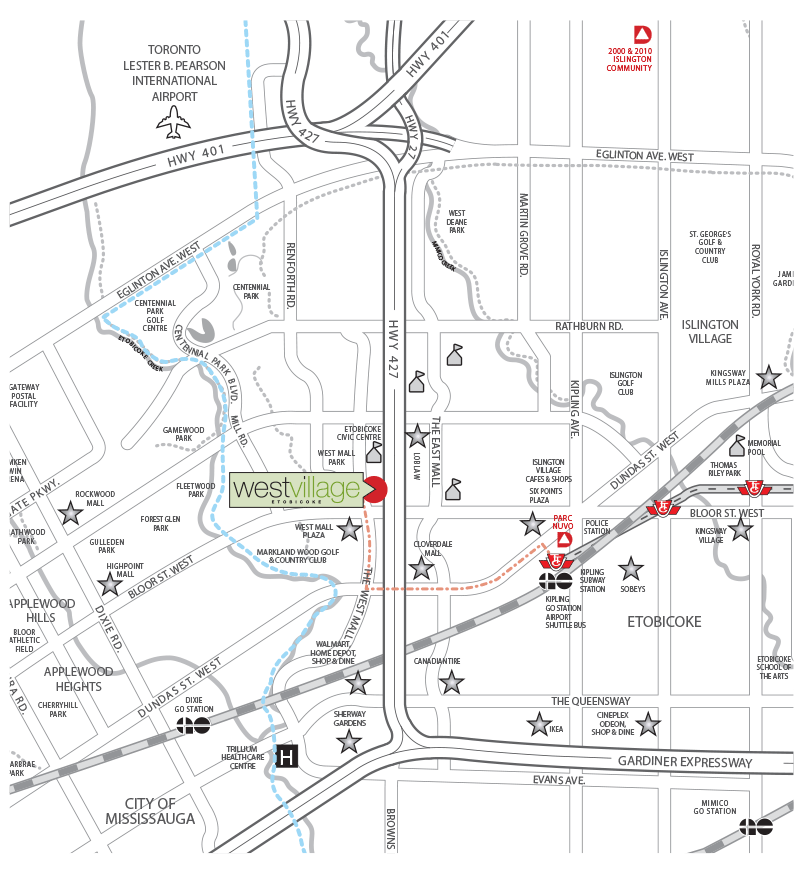 West Village Etobicoke Amenities
Connect with others over shared interests and forge new friendships in this welcoming Village.
Or venture into the surrounding neighbourhood to visit the local market, meet friends at your favourite pub, screen the latest Hollywood release, get in a game of golf.
Explore the nearby nature trails, or delve into your favourite sporting activity in the surrounding parks.
Host a barbeque at sunset on a rooftop oasis.
Mingle over cocktails in the Outdoor Lounge off the Party Room.
Share a quiet moment with family in the glimmering fireside TV Lounge.
Head to the and Swimming Pool, and work off the kinks from the day.
Great shopping, the subway and the ease of Highways 427 and 401 are just minutes away.From West Village you can go anywhere. Then again, with so much to offer inside the Village, you may not want to go anywhere at all.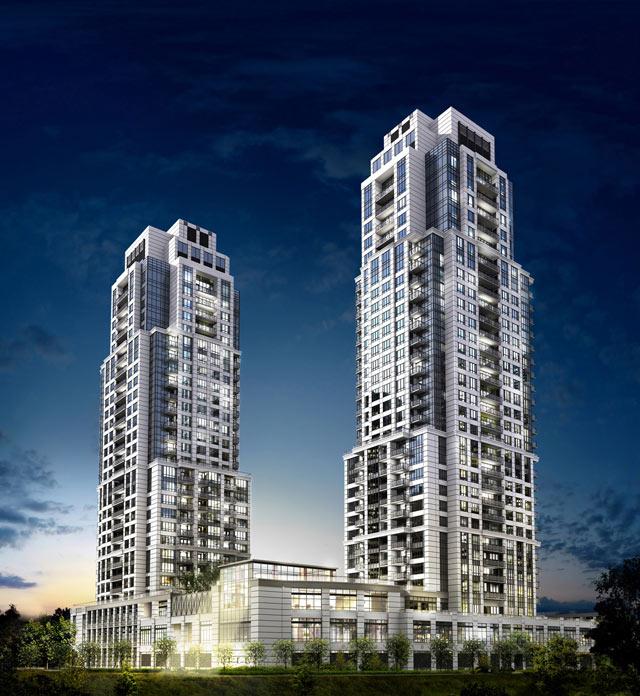 General
White stippled ceiling in all areas except the kitchen, laundry/storage, rooms and bathrooms
Interior walls are primed and then painted with two coats of off-white, quality latex paint.
Contemporary style 6'8″ interior doors (paint finish) with brushed nickel hardware.
5″ square edge paint finish baseboards in all areas except bathroom, laundry and storage areas.
Cultured white marble window sills, on all windows.
Mirrored sliding closet doors.
Thermally broken aluminum windows with double pane, sealed glazing units and operable awning windows for added thermal comfort.
White bathroom fixtures throughout.
Safety And Security
Concierge monitoring community access systems including two-way communication from selected zones in underground garage and entry areas.
Personally encoded suite intrusion alarm system with key pad and door contact. Suite door contact and keypad connected to concierge station.
Electronic communication system located in the lobby vestibule permits guests to communicate with the suite from the building entrance. Guests in the lobby vestibule can be viewed on the resident's television.
Surveillance cameras in selected locations in the building, grounds and garage may be monitored by the concierge.
Computer controlled access system provided at all building main entry points.
Emergency response key chain pendants, usable in selected areas within the underground garage, will alert the concierge of a distress call (2 per suite).
Suite fire alarm and speaker including silencing switch.
Insuite sprinkler system.
Hard wired smoke alarm(s).
Communications
Communications Wiring Centre (high-speed wiring connection point).
Advanced, star design in-suite structured wiring. Each telephone, cable or multi-port outlet within a suite connects directly to the Communication Network Centre.
Pre-wired cable outlet in living room and bedroom(s).
Pre-wired telephone outlet in living room and bedroom(s).
One multi-port outlet (telephone and cable connections located on the same faceplate), location determined by Vendor.
Category 5 telephone wiring to all telephone outlets and multi-port.
RG-6 coaxial cable to all cable outlets and multi-port.

Kitchens
Cabinetry with single square edge granite or engineered quartz counter top.
Stainless-steel ledge back sink.
Low Flow chrome, single lever kitchen faucet, complete with pull out vegetable spray.
ENERGY STAR® high efficiency, time-delay built-in 24 inch dishwasher in stainless steel finish.
ENERGY STAR® 17 cubic foot frost-free refrigerator in stainless steel finish.
Microwave with built-in high capacity hood fan vented to exterior in stainless steel finish.
30 inch stove in stainless steel finish.
Ceramic tile backsplash.
Bathrooms
Vanity cabinetry with cast granite countertops complete with rectangular basin.
Vanity mirror and wall sconce lighting.
Deep soaker bathtub.
Low Flow single lever sink faucets
Low Flow, high pressure showerheads
Temperature controlled and pressure balanced, shower faucet.
Dual flush, low-flow high performance toilet(s).
Laundry
Heavy-duty wiring and receptacle for dryer.
Ventilation to exterior.
Stacked front loading dryer and ENERGY STAR®, high efficiency, front loading washer.
Comfort System
Two pipe vertical fan coil heating and air conditioning system, with supplementary heating coil for seasonal comfort control.
Individual metering of electricity, heating and cooling consumption.
Direct venting to the outside of kitchen hood and dryer exhaust.
Central building water filtration system.
Continuous venting of bathroom(s) exhaust to central building energy recovery system.
Electrical Service And Fixtures
Individual service panels with circuit breakers.
White designer series receptacles and switches throughout.
Ceiling light fixtures in foyer, hallway(s), walk-in closet(s), bedroom(s), and den.
Capped ceiling light outlet in dining room.
Lighting fixtures designed to fit long-lasting, energy saving lamps.
Suite electricity metering for individual energy management.
Floor Coverings
Premium plank laminate floating floor with acoustic underlay in foyer, hallways, dens, living and dining areas* and in selected kitchens.
Ceramic floor tile in bathrooms, laundry and storage areas.
40oz. broadloom with underpad in bedrooms.
White ceramic floor tile in laundry.