Stationside Condos | Milton
Stationside Condos is a gorgeous new condominium development coming soon to 135 Nipissing Road in Milton, with the major intersection being Main St East and Ontario St South. This pre-construction project is by Neatt Communities.
Summary
Project: Stationside Condos | Milton
Price: TBA
Completion: 2027
Storey: 19 and 23
Units: 613
Developer: Neatt Communities
Address:
135 Nipissing Rd, Milton, ON L9T 1R3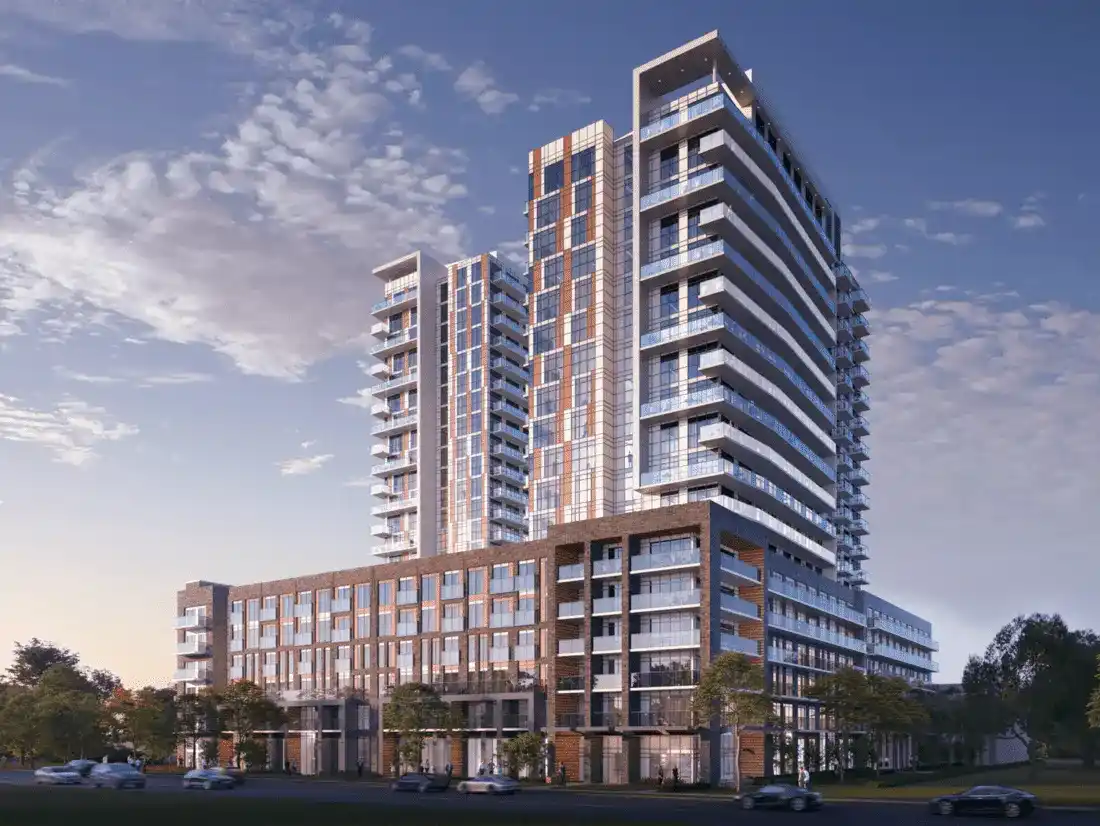 Stationside Condos will consist of two towers — 19 storeys and 23 storeys respectively – that will share a 6-storey podium and house a combined total of 613 beautiful suites. Units will range from 1-bedroom to 2-bedrooms with sizes varying from 447 sq. ft. to 853 sq. ft.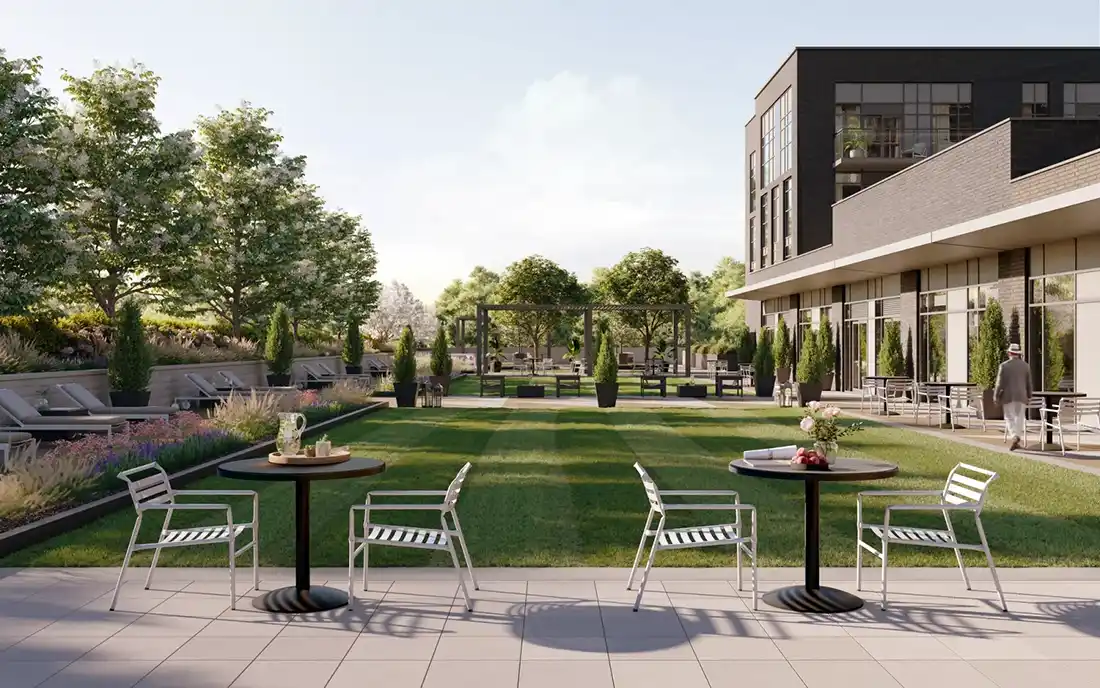 The development will also feature 2-level underground as well as 2-level aboveground parking with 667 parking spaces out of which 544 will be for residents while 123 will be assigned for visitors. There will also be 613 bike parking spaces and 522 storage lockers on-site.
Completion is anticipated for 2027 while VIP Launch is slated for fall 2023.
Stationside Condos Highlights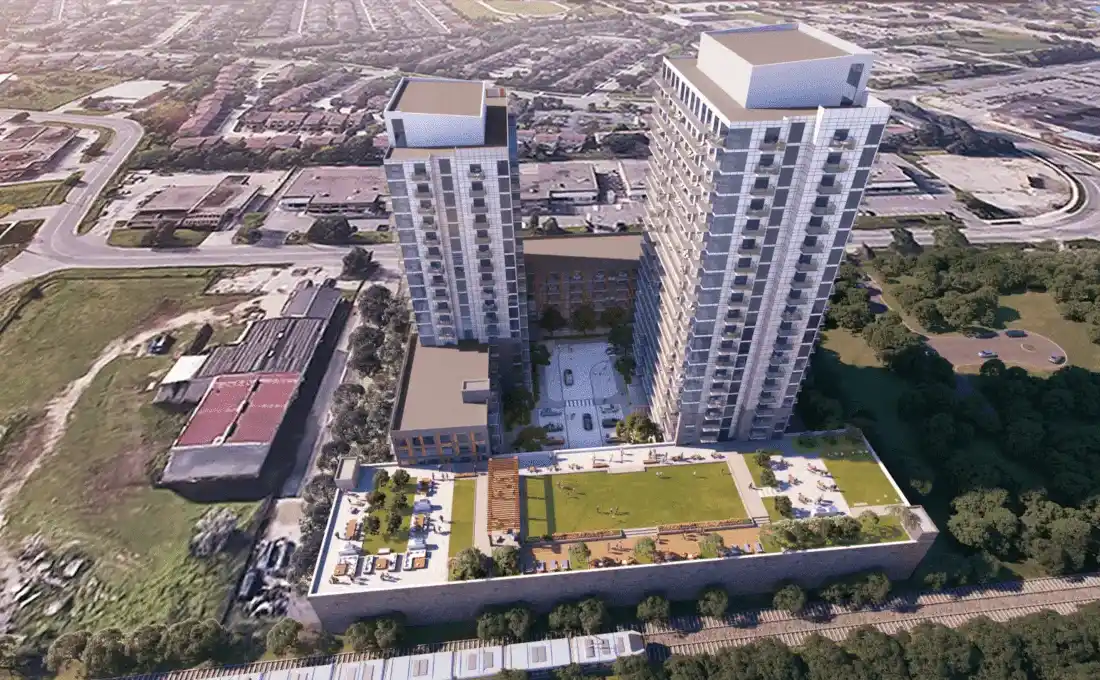 Nestled in the core of downtown Milton
Has a Walk Score of 79/100, Transit Score of 48/100, and Bike Score of 70/100
Offers quick access to Highway 401
Located within a 3-minute drive of FirstOntario Arts Centre Milton
Within a 7-minute walk of Milton Mall
Within 13-minute walk of Milton GO Station
Close to dining, shopping, recreational and entertainment options
Close to schools
Close to parks including Kinsmen Park, Baldwin Park and Wakefield Park
Amenities
The development will provide plenty of space on the ground as well as third levels. In addition, there will be rooftop space of 30,000 sq. ft. atop the parking garage. This gorgeous outdoor amenity will comprise lounging plus dining areas, BBQ stations, wide walkways and a bocce ball court.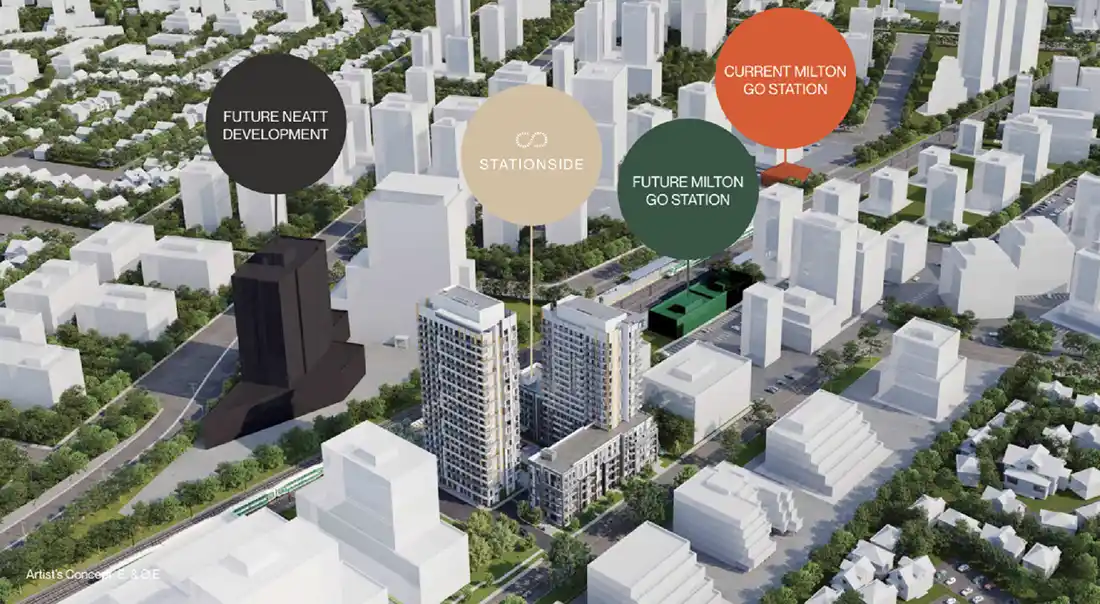 Transit Options
Stationside Condos neighbourhood has a Transit Score of 48/100 but it is a bikers' paradise. The development is located just a short drive to Milton GO Station from where riders can conveniently access GO trains plus buses and the Milton Transit's local bus routes.
Motorists are just fewer than 4 km from Highway 401, allowing for a quick drive to Toronto or Kitchener in less than an hour.
Location and Neighbourhood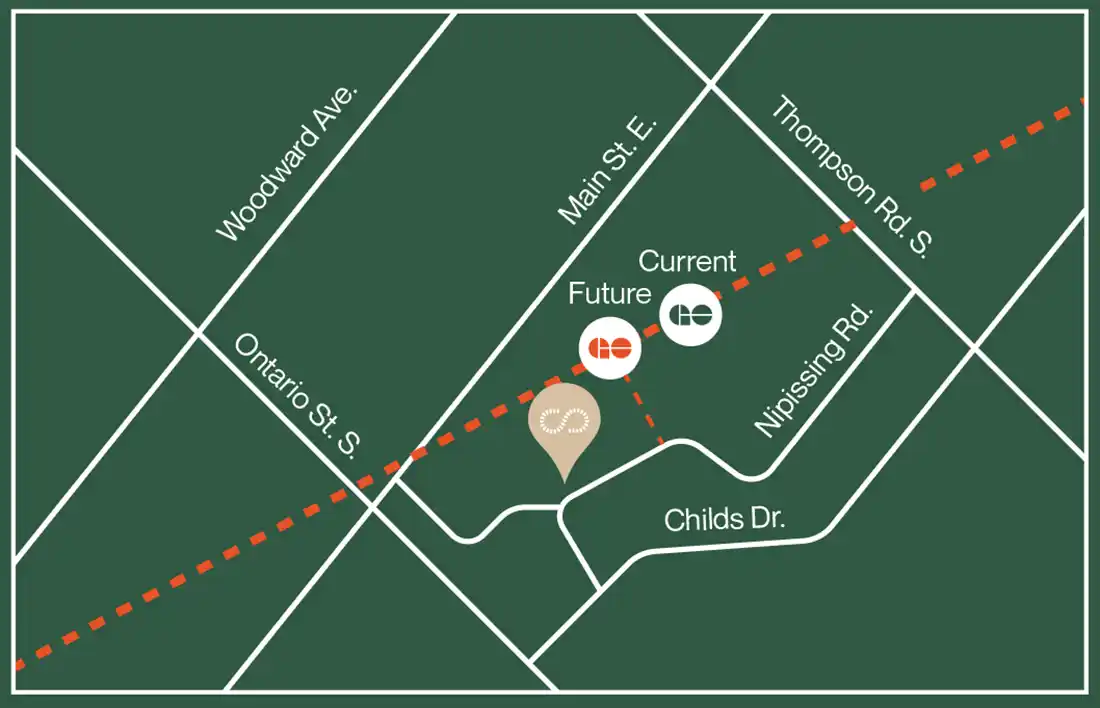 Stationside Condos is conveniently located in the evolving core of downtown Milton, which is a well-connected locale, surrounded by amazing shopping and dining options, parks, trails, conservation areas and .more. This makes it a great place to raise a family.
Milton is among the fastest growing cities. From a mere rural community, it has evolved into a modern suburb boasting an array of amenities. The city is well located inside the Innovation Corridor which connects Kitchener-Waterloo to the GTA.
Residents will be just a short walk to Milton Mall, a popular shopping centre housing 60 shops and services. It is the town's largest indoor mall with Ardene, Lowe's, Suzy Shier, Dollarama, Plato's Closet, Fit4Less and Designer Row located there.
No Frills, Longo's Metro, Food Basics plus many independent grocers can all be easily accessed. Also, big-box stores including Lowe's, Winners, Best Buy, Home Depot, Staples, Wal-Mart and Sport Chek all have location in the area.
There are several great schools near this development. They include E.W. Foster Public School, Angus Valley Montessori Milton, E. C. Drury School for the Deaf, Robert Baldwin Public School, J.M. Denyes Public School, Holy Rosary Catholic Elementary School, Milton Christian School and.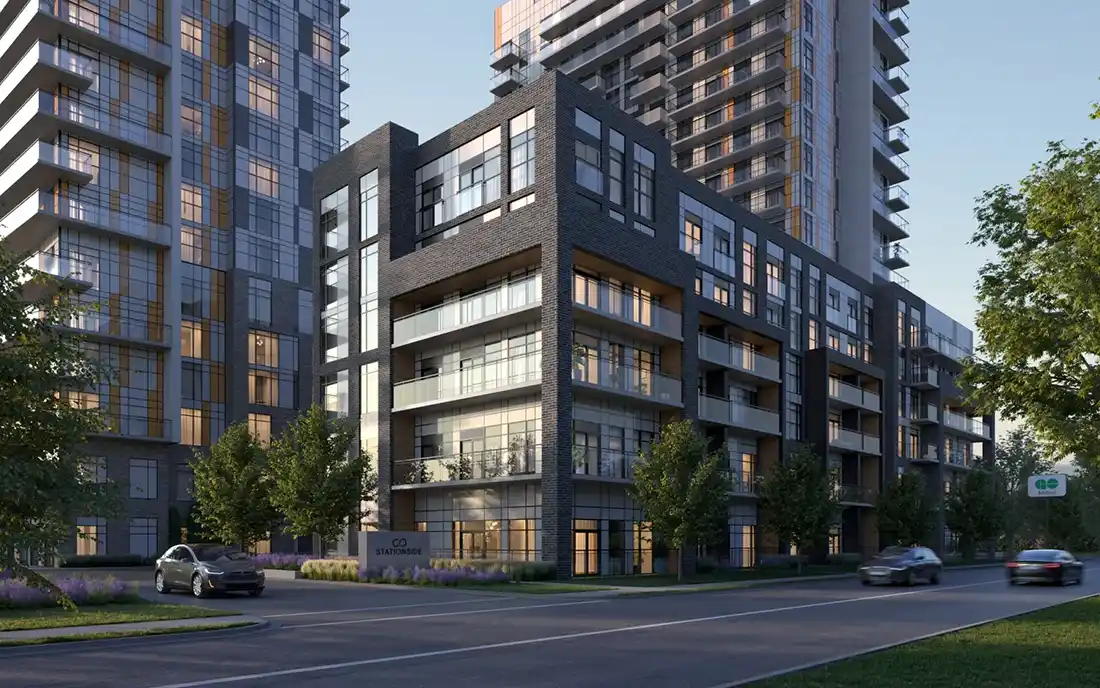 Also, Milton Seniors Activity Centre, Milton Leisure Centre, as well as Sherwood Community Centre provide numerous activities that keep the community engaged throughout the year.
Milton boasts numerous greenspaces and beautiful neighbourhood parks such as Rotary Park and Kinsmen Park, both of which have a playground, basketball or tennis courts, baseball diamonds and a splash pad, allowing families to enjoy healthy outdoor activities. Sports enthusiasts will find even more at Lions Sports Park including several soccer fields, a skatepark plus an ice rink.
About the developer
The Milton-based Neatt Communities is a real estate developer with more than 30 years of experience in the industry. The company has properties under development to the tune of $3 billion. The firm is devoted to its clients and stakeholders to be thoughtful, accountable as well as all-encompassing.