Mobilio | Vaughan
Mobilio Condos is a brand new condominium development located at Jane Street and Highway 7, Vaughan. The project, which is presently in pre-construction, is by Menkes and QuadReal.
The development, which will feature 2 towers, 21 and 20 storeys respectively, and house 550 suites in total, is the first phase of the Mobilio master-planned community. This is a meticulously-planned community that will perfectly balance townhomes, high-rise condominium towers, green space and amenities, and not only meeting the needs of all kinds of buyers, but also offering them unequalled value.
Additional information including unit sizes, finishes, amenities, launching date and more is yet to be released by the developers.
Mobilio Condos anticipated completion date is April, 2022, while VIP launch is scheduled for spring 2019.
Summary
Project: Mobilio | Vaughan
Price: TBA
Completion: 2022
Storey: 21 and 20 storeys
Units: 550
Developer: Menkes
Address:
Jane St & Hwy 7 Vaughan, ON L4K 2M7
Why consider investing in Mobilio Condos
Vaughan is poised to establish itself as an alternative downtown destination in the Greater Toronto Area. Its population has doubled in size since 1991 and the city has grown to become the 5th largest city in the GTA, hence it has attracted new residents and increased in popularity.
Vaughan plans to construct a new downtown and according to Real Estate Investment Network (REIN), an independent research think tank, this new downtown area is projected to attract 25,000 residents as well as create 11,000 jobs by 2031. It ranks Vaughan among the top urban areas in Ontario for real estate market performance & suitability for investment over the next five years.
Both students and faculty can get to the York University Campus via a 7-minute subway ride an improvement on the previous 40-minute bus ride.
As there are no more restrictions on university students and educational professionals in regards to student housing or Toronto's rental market housing, they now consider Vaughan city and the Vaughan Metropolitan Centre as their first pick for convenience-centric housing.
Currently, nearly 60% of the ridership of the Finch West subway extension is enjoying the Campus-centric stations.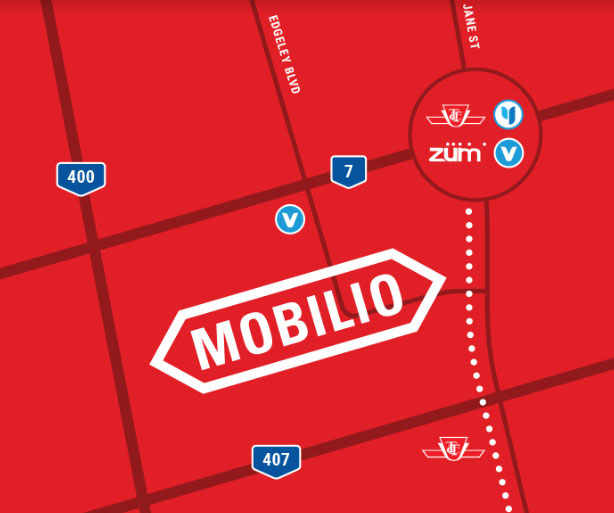 Highlights
Nestled right in the core of Vaughan Metropolitan Centre

2-minute drive to Hwy 400 and 407

Steps to the new TTC station & VIVA station

9-minute ride to York University from VMC with the York Spadina Subway extension

Close to shopping, restaurants, schools and entertainment spots

Situated less than 20 minutes from Pearson International Airport

Close to parks including Elm Park, Weston Downs Park Hullmar Park
Location
Mobilio Condos is located at the heart of Vaughan Metropolitan Centre close to the intersection of Jane Street and Highway 7. The area is home to several shops, big brand stores such as Canadian Tire, Walmart, Costco, IKEA and Staples, popular restaurant chains, hotels, businesses such as banks, pharmacies, a comedy club and two movie theatre complexes. Also in the neighbourhood are popular retail centres like Yorkdale and Vaughan Mills. Vaughan is home to several natural green spaces including Boyd Conservation Park as well as the Kortright Centre for Conservation, situated within a 15-minute drive. Vaughan also boasts of several nationally-known attractions and is served by many cultural and entertainment destinations including Reptilia, Canada's largest indoor reptile zoo and Canada's Wonderland, the largest theme park in Canada, and more.
Transit
Vaughan Metropolitan Centre is a regional transportation centre. It houses a bus terminal that offers services for VIVA, YRT as well as Brampton's Züm buses. The 8.6 km long TTC Subway extension enables local riders to commute to downtown Toronto in merely 47 minutes. York University students are among the many new residents to maximize on this new transportation infrastructure, commuting to Keele campus in only 5 minutes. Motorists can easily get around by conveniently accessing Highway 7, 400 and 407.
Developer
Menkes is one of one of the top names in Toronto's real estate development industry, and among the largest developers in Canada with over 6 decades of experience. The fully-integrated and multi-disciplinary real estate company engages in residential as well as commercial/retail projects. It has an impressive portfolio of landmark mixed-use projects such as Four Seasons Hotel & Residences located in Yorkville among many others. QuadReal was established for the purposes of managing the British Columbia Investment Management Corporation's (BCI) real estate program. BCI is one of the largest asset managers in Canada with a whopping $145.6 billion portfolio. It has a portfolio of operations to the tune of $27.4 billion that spans 23 cities worldwide in 17 countries.